Call for Papers

115th Annual ECA Convention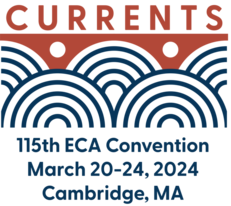 ---
The regular submission deadline has passed.
Student submission deadline is December 1, 2023, 11:59 pm PST
Undergraduate Scholars Conference
Call for Competitive Graduate Posters
---
2024's convention theme is Currents, which represents our convention location the banks of the Charles River in Cambridge while serving as a metaphor for how ideas are the currents that shape our discipline in this contemporary moment. I encourage you to explore the currents of communication through questions such as:
How do historical currents shape our current the terrain of the study of communication?
How can the communication discipline move ideas and theories into a wider body of knowledge?
How do theories currently shape the practice of communication?
What communication ideas, topics, or concepts have currents worn down or created anew?
How do we support our current students – undergraduate and graduate – in navigating their academic experiences?
What kinds of impacts do current technologies have on communication pedagogy?
What current trends and movements are changing the direction of teaching, learning, practicing, and theorizing communication?
The 2024 Convention also features the Connect Conference. The Community College Interest Group will be meeting at the 2023 Convention to begin planning this important event.
Please note the earlier submission deadline of September 18; this is to ensure a smooth timeline for planning a March 2024 convention.
To submit your proposal, please click on the appropriate interest group below. You will find the link to submit your proposal there, along with specific information. Click here to learn how to submit your proposal.
I am looking forward to working with the 2024 Interest Group planners, my conference planning, team, and ECA leadership to creating an ECA Convention that explores the currents of the communication discipline!
Jeanne M. Persuit, Ph.D.,
University of North Carolina Wilmington
persuitj@uncw.edu
---
Undergraduate Scholars Conference
Call for Competitive Graduate Posters
---
---
ECA 2024 CONVENTION PLANNERS CONTACT INFORMATION
Thank you to the individuals listed here for their service to ECA and to our discipline.

First Vice President & Primary Convention Planner
Jeanne Persuit
University of North Carolina Wilmington (UNCW)
persuitECA2024@gmail.com
910-962-2616