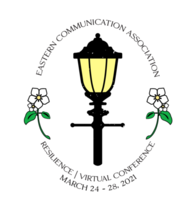 Conference Planning in Uncertain Times
ECA 2021 | March 24 Conference Update

A Fully Virtual Event
Wednesday, March 24 - Sunday, March 28, 2021
Resilience
Dear ECA Community:
Our 112th Annual ECA Convention has arrived! Please plan to attend our Conference Welcome tomorrow morning at 8:00 AM EDT to meet the ECA Leadership and review the key features of our Pathable conference platform. To ensure that you have access to your conference sessions, please review the important information below.
1. To access the Conference sessions, you need to have set up your Pathable account via the invitation you received from ECA last Wednesday. If you did not receive this email, please contact Amanda McKendree at amckendree@nd.edu ASAP. Here is a short 1-minute video that illustrates your steps:
https://support.pathable.com/hc/en-us/articles/360054981112-Sign-in-to-a-Pathable-Powered-Event
2. Once you've set up your Pathable access AND have signed in, you will do the following from the conference home page:
Click SCHEDULE.
Then click CONFERENCE PROGRAM.
Select your desired session or search the program.
On the session page, you will see a "countdown" section. This section will become "live" with a JOIN MEETING or START MEETING link 20 minutes prior for speakers (presenters, respondent, chair) and 1 minute prior for attendees.
If you are an attendee for any session, please note that before the "Join Meeting" appears for you, you will need to either select "Reserve a Spot" or add the session to your agenda.
Then, click the JOIN MEETING button to enter the conference session.
3. Pathable tech support is available by clicking on "Support" at the top menu or bottom footer of our conference site.
4. ECA Tech Ambassadors will also be circulating through sessions to assist. If you have general questions prior to your session, please reach out to Director of Conference Technology, Doug Strahler (douglas.strahler@sru.edu) or Amanda McKendree, primary convention planner, at amckendree@nd.edu. If you require support during a session, using the Pathable Support feature on our site is the quickest way to find help.
5. Refer to our Quick Start Guide and our Pathable Training Recording for additional information.
https://pathable.zoom.us/rec/share/Xr6kUnw16cCZ1k6PyXkM11_rCp2KJe91LVRDagii8_kYL95rJKg8qC-xEt-N46ZH.1hEeXhd2DQZhP12v
Passcode: !1Y%Dt2Z
Amanda McKendree
First Vice President/Primary Convention Planner
view all news
News & Notes
10/13/2020
Dr. Gerald Lee Ratliff, age 75, of Rock Island, Tennessee passed away on January 14, 2020 at his home. Gerald was born in Middletown, Ohio on October 23, 1944.
view all events
ECA Calendar
April 27 - May 1, 2022
Hyatt Regency Buffalo Hotel and Conference Center
Buffalo, NY