Complete Story

01/23/2020
ECA Mourns the Loss of James W. Chesebro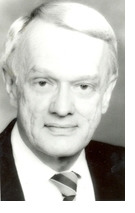 It is with heavy heart that I write this message to offer thoughts in the face of losing a significant presence and force in our field. As many you know, ECA and NCA Past President, James W. Chesebro, left this world. Though we experience this loss and its enormity today, Dr. Chesebro did not leave us empty-handed. He leaves behind a stellar example of scholarship, service, and leadership.
As I thought about penning this message, I thought I would include a meaningful and profound quote that would speak to the many ways Jim leaves a lasting impact on our field and us. In scouring his long list of published works for a quote, it occurred to me that his lasting impression cannot be boiled down to one or two sentences that he wrote or spoke, but instead, it was the breadth of his lifetime of scholarly endeavors, leadership and service that will impact us and our field forever. His impact on our discipline is found in the many areas represented in his published works. His scholarship touches on almost all, if not all, aspects of our field. He published on such topics as communication competence, cognitive and symbolic systems, archetypal criticism, popular television, gay speak, faculty development issues, the discipline, popular music as a mode of communication, and rhetorical theory, just to name a few.
Today, I came across a title in his body of work that I think may be my favorite among his works. That title is "How to Get Published." I believe this title appeals to me especially because it demonstrates his concern for his colleagues along with his concern for our field. It's one thing to publish in almost every area of our discipline, but it's an entirely different thing to publish works that are strictly for the benefit of challenging one's colleagues to contribute to the field.
Let us remember him, foremost, for his kindness and care for others. He cared enough about us to serve us at the national and regional levels. He cared enough about us to share his vast experience in publishing. He cared enough about us to write about our discipline and how to make it better. He challenged us to make it better. There is no greater way to honor his memory than to follow his example to engage in scholarship and to serve our field. His service to ECA alone spans across decades. Today, remember Jim for his lifetime of work and set about to change our discipline as he encouraged us to do. In his words, "This is not to say that a discipline cannot and should not change. Rather it suggests that the author who wishes to make a fundamental change should establish a program of research and analysis designed to "prove" his or her case. And, it should be noted that a program of research can often constitute a lifetime of work." Thank you, Jim, for your lifetime of work and your dedication to ECA.
With great sorrow,
Katherine
Katherine S. Thweatt
ECA President
---