112th Annual ECA Convention
Resilience
Cambridge, Massachusetts
Wednesday, March 24 – Sunday, March 28, 2021
---
Begin the conversation about your research, trip, or experience on
ECA's Facebook and Twitter!
112th Annual ECA Convention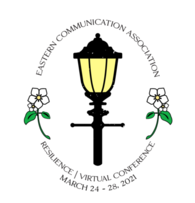 2021 Eastern Communication Association Conference
Hyatt Regency Cambridge, Massachusetts
Wednesday, March 24 - Sunday, March 28, 2021
Resilience
Submission Deadline: October 15, 2020 11:59 (PST)
Our vision for the 2021 ECA conference in Cambridge, Massachusetts, is to engage "Resilience" thoughtfully as a persistent response to overcoming obstacles, thriving despite challenges, and adapting to an ever-changing global landscape. As we are embedded in a historical moment marked by "wicked problems," we look forward to the opportunity to explore resilience for global communities and share possibilities for teaching, research, civic engagement, as well as in our professional and personal endeavors. We recognize that inherent within resilience are conflict and struggle. However, from this discomfort, resilience brings a power and a responsibility to share with the larger global community.
As we respond to global concerns ranging from climate change and terrorism to concerns within higher education and our discipline, we find resilience in ways that attend to both the community and the individual. Despite the challenges we face in our classrooms, on our campuses, and in the world, we have a choice to preserve what is available and find opportunities for growth.
Viewed as a symbol of American culture and history, our conference location, Cambridge stands as an icon of resilience. Prior to the colonial era, this region was home to the Algonquin people who cultivated the land of the well-watered region that was conducive to growing their crops. The tribe's resilience allowed them to nurture the land while facing disease and tribal warfare. When 700 Puritans arrived in 1630, they developed a thriving community and later renamed the town after Cambridge, England in 1638.
Cambridge is part of the Greater Boston area of Massachusetts and situated on the North Bank of the Charles River. Known as the "City of Squares," Cambridge is home to fine dining, eclectic shopping, theaters, museums, and historical sites.
Some historical milestones include the following:
Cambridge is considered the birthplace of the American Revolution.
Cambridge is home to the oldest institution of higher learning in the United States, which held its first commencement in 1642.
The first Massachusetts Constitutional Convention met in Cambridge in 1779–80.
Cambridge is the site of the first printing press and the first books printed in America.
Cambridge is home to the first and most complete public transit system.
Cambridge is one of the first places to integrate schools.
Cambridge's Main Street was once referred to as Confectioner's Row, featuring candies that we know as Junior Mints, Charleston Chews, Sugar Daddies, and NECCO wafers.
Cambridge is the site of the first Fig Newtons that were made in 1891.
Our Cambridge convention and the "Resilience" theme encourage us to learn from what the city has to offer communication scholars. We invite ECA interest groups and members to develop programming for the 2021 convention that focuses on "Resilience" across communication contexts and the ways that we…
Share Resilience
Communicate Resilience
Foster Resilience
Initiate Resilience
Find hope in Resilience
Inspire Resilience
Make sense of Resilience
Celebrate Resilience
Critique Resilience
Learn Resilience
Our hope is that through the conference experience, we will contribute to the ongoing "Resilience" conversation and reveal our persistence as we respond to the challenges of the 21st century.
Amanda G. McKendree
First Vice President
University of Notre Dame
amckendree@nd.edu