110th Annual ECA Convention
Creating our Future
Providence, Rhode Island
Wednesday, April 10 – Sunday, April 14, 2019
---
Begin the conversation about your research, trip, or experience on
ECA's Facebook and Twitter!
Basic Course Conference 2019
The Basic Course Conference will be offered in 2019.
Co-Directors: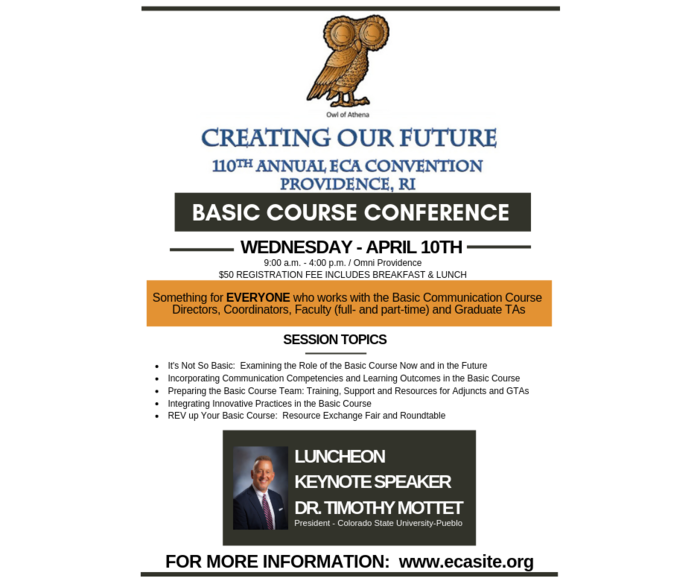 It's Not so "Basic":
Creating the Future of the Basic Course in Communication
The Basic Course is a fundamental component of most departments and is foundational to our discipline. Every other year, ECA brings together those who teach and/or administer this vital introductory course in communication to examine and discuss trends and innovative practices for this course and to share their expertise with both those new to teaching the basic course as well as those who have taught the course for many years.
The 2019 Basic Course Conference Schedule:
9:00 – 9:30
Registration, Continental Breakfast and Welcome
9:30 – 10:30
It's Not So Basic: Examining the Role of the Basic Course Now and in the Future
The Basic Course is found in almost every communication department and program in almost every type of institution. For students, it provides their first exposure to the discipline but what is the role of the basic course? Is it used to recruit students to the major? Does it satisfy a core or "gen ed" requirement? Does it serve as a financial resource for the department? Does it provide the first teaching experience for graduate students? This session will explore the answers to these questions and more.
Participants:
Timothy Brown, Queens University of Charlotte
Sean Horan, Fairfield University
Richard West, Emerson College
Nancy Willets, Cape Cod Community College
10:30 – 11:30
Incorporating Communication Competencies and Learning Outcomes in Communication: Identifying, Articulating and Assessing Outcomes in the Basic Course
Given the research that has been done at the national level to provide institutions with the Basic Course Communication Competencies and the Learning Outcomes in Communication, those who have been intimately involved in one or both of these projects will come together to discuss how the results of these projects can and are being used to strengthen the development and assessment of learning outcomes for the basic course.
Participants:
Scott Myers, West Virginia University
Mary Toale, SUNY Oswego
Susan Ward, Delaware County Community College
Kristen Berkos, Bryant University
11:30 – 12:30
Assembling and Preparing the Basic Course Team: Training, Support and Resources for Adjuncts and Graduate Teaching Assistants
Universities increasingly depend on adjunct faculty and teaching assistants to provide students with a solid foundation in the Basic Course, and approximately 70% of introductory-level courses across all disciplines are taught by part-time instructors. Providing our Basic Course team with the training and resources needed to deliver high-quality courses is an essential element in promoting the value of communication.
Participants:
Melissa Brockelman-Post, George Mason University
Gerald Jalette, University of Rhode Island
Jane Pierce Saulnier, Emerson College
Stephen Stifano, University of Connecticut
12:45-2:00
Lunch and Keynote Speech by Timothy Mottet, President, Colorado State University-Pueblo
2:00 – 3:00
Creating Learning Experiences for the 21st Century Student: Integrating Innovative Practices in the Basic Course
Students in our Basic Course classes bring diverse preferences for learning. Our challenge is to address these preferences and create engaging classroom experiences. Panelists will explore opportunities for integrating innovative practices to appeal to contemporary students, including: integrating technologies to adapt classes to online or blended formats; incorporating service learning; adopting team-based learning approaches; and focusing on contemporary social issues such as civility.
Participants:
Ann Frymier, Miami University
Janie Fritz & Kati Sudnick, Duquesne University
Stephen Granelli, Northeastern University
Adam Roth, University of Rhode Island
Toni Whitfield, James Madison University
3:00 – 4:00
REV up Your Basic Course: Resource Exchange Fair and Roundtable
All participants in the Basic Course are invited to bring an example of a favorite assignment, activity, video clip suggestion/debriefing questions or other materials incorporated in their own basic course classes to share! Think of how many new ideas you can leave the conference with to REinVigorate your own classrooms!
4:00 Basic Course Wrap-Up!